Using Multiple Computers with One Keyboard and Mouse
Input Director allows you to control two or more computers with one keyboard and mouse.
Input Director is an amazing piece of free software that works like a kvm (keyboard video mouse) switch that allows you to control two or more computers with one mouse and keyboard provided all the computers are Windows machines and that they are all networked together.

Input Director
I have an XP desktop networked wirelessly to a laptop running Vista. The laptop is on my desk to the left of my desktop PC. With Input Director running (I have it configured to automatically run on start-up on both machines), I can move my desktop mouse off the XP screen and onto the Vista laptop's screen and control the laptop with my desktop mouse and keyboard without touching the laptop. What's more, I can use the Clipboard to copy and paste across both machines. That's totally awesome!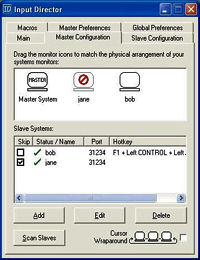 Input Director
Of course I have them networked together and I can move files from one to the other using the wireless LAN but the ability to control both machines with one keyboard and mouse and the ability to copy and paste only the portions of documents that I want across both machines so effortlessly is pretty awesome. Plus, moving things from one computer to another with Input Director is much more simple and faster than doing the same thing using my network, provided I'm not trying to move a huge amount of data.
If you decide to try Input Director, you can download it just by Googling "input director" but do yourself a favor and click open the Quickstart Guide. You'll see it just below the Download link on the Google page. Here's a link to Input Director Quickstart Guide. You'll want to copy the information on that page and another page that you'll find a link to at the bottom of the first page and paste them both into a text file that you'll be able to open on the Desktops of the computers you will be linking. It will become obvious to you how handy that will be once you start configuring the program on your computers.